Explore the possibilities
Specialty Films and Finishes
Enjoy Enhanced Privacy With
Casper Cloaking Film
Casper™ Cloaking Technology by Designtex is an architectural covering that offers openness and privacy while obscuring digital screens to outside view. This technology is a transparent shield to ensure privacy from data hackers in any open working environment. Casper Cloaking film appears both transparent and opaque at the same time while protecting your sensitive information.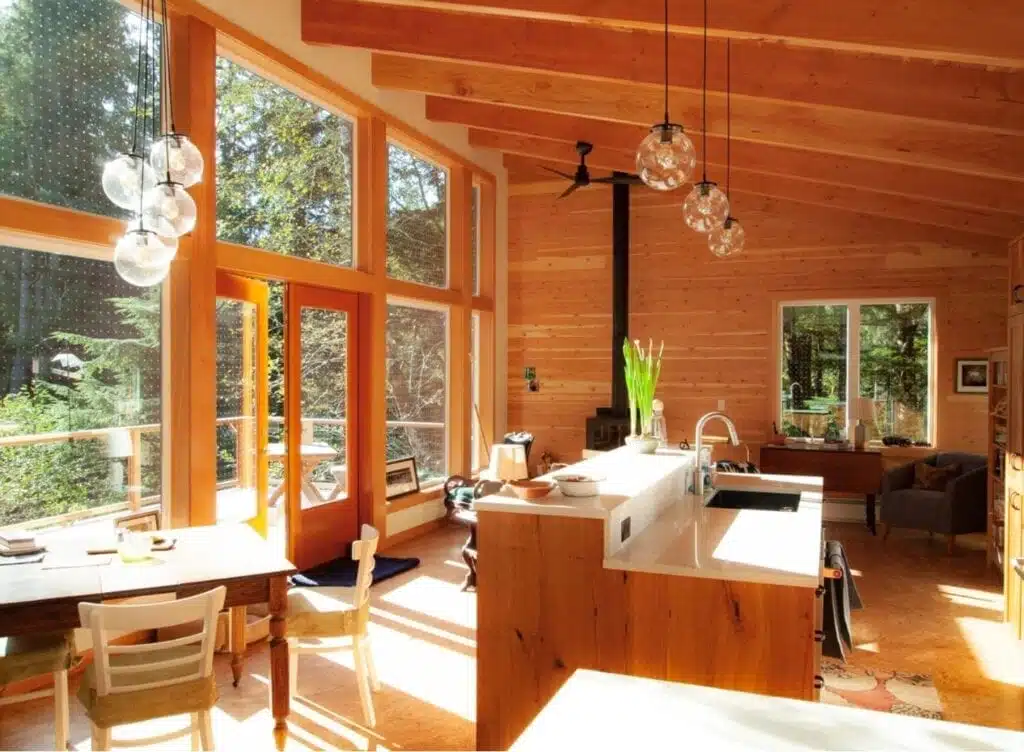 Feather Friendly Bird Strike Film
In many cases of large areas of glass on a home or commercial building, birds think they can fly through the glass. Birds become disoriented because they cannot see the glass surface, resulting in bird deaths by collision. Feather Friendly Bird Strike film effectively minimizes the negative effects of glass surface reflection and visual illusions to help prevent strikes. This film has a scientifically proven pattern of distraction markers installed on the outside of the glass to break up the bird's visual confusion. This same pattern offers over 98% clear viewing while maintaining optical clarity for building occupants. Feather Friendly film markers are unobtrusive and aesthetically pleasing designs that maintain the natural appearance and architectural features of the building.
Inspiring collaboration & learning
3M POST-IT® FLEX WRITE SURFACE
Whiteboards encourage collaboration among others and are heavily used in office and educational environments. The free exchange and progression of ideas best occurs when there is a written record. Enter the whiteboard – a great way to write (and erase) for all others to see. The limitation of a whiteboard is that someone inevitably writes on it in permanent marker, rendering the whiteboard useless. But now, thanks to 3M Company, that is no longer a problem.
Transform Your Space with Post-it® Flex Write Surface
3M's Post-it® Flex Write Surface is a whiteboard film that can be installed on existing whiteboards, tables, desks, and walls. It can be erased without leaving stains, even when permanent marker is used. To erase permanent marker from Flex Write Surface, simply dampen a cloth with water and wipe away the "permanent" marker. It's that easy.
Flex Write Surface is perfect for inspiring collaboration in offices, conference rooms, and schools.
Post-it® Flex Write Surface is safe for use with common disinfectant sprays.*
*Follow the manufacturer's instructions. Tested with common disinfectant sprays found in medical facilities.
Anti-Graffiti Film
This exterior film protects your glass surfaces from graffiti. Anti-Graffiti film gives your glass a strong first line of defense against paint, gouging, scratching, and even acid etching. If damage is done to the exterior surface, you simply have the film replaced for a fraction of the cost of new glass.
Vandalism not only damages your image but may deter limited time customers from giving your store a chance.
Vanquish vandals with graffiti protection. Protect your surfaces against most scratches, acid etching, gouges, and tagging with 3M™ Anti-Graffiti Film.
Remove and replace quickly – without the hassle of replacing your windows.
Money-saving option that's only a fraction of the cost of new glass.
Rejects 99% of the UV rays that contribute to fading, helping to extend the life of display merchandise.
Transparent protection without the detection. Protect your glass and your budget.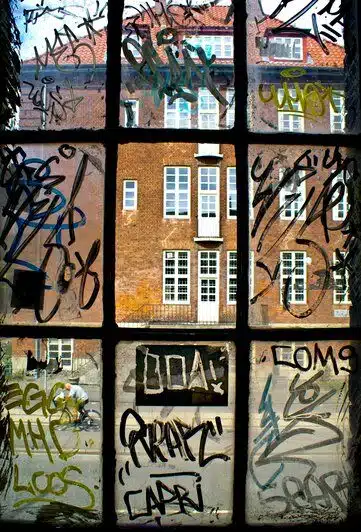 GET AMAZING LOOKS WITH
3M™ DICHROIC
GLASS FINISHES
Create one-of-a-kind architectural masterpieces at a fraction of the cost of color-shifting glass. Depending on the mounting surface color, viewing angle and lighting choice, 3M™ DICHROIC Glass Finishes can take on a completely different look, letting you define spaces in an altogether original way.
3M™ Dichroic Glass Finishes transform plain clear glass into a visual spectacle for privacy or enhanced aesthetics. Dichroic films are available in two finishes and appear to change color when viewed at different angles.
These color shifting properties give your projects an unexpected dynamic visual that makes them stand apart from the norm.
Shimmering effects are available in cool and warm tones
Film can be cut into letters, logos, patterns or bent
Applications include exterior glass, partition walls, or smooth architectural glass surfaces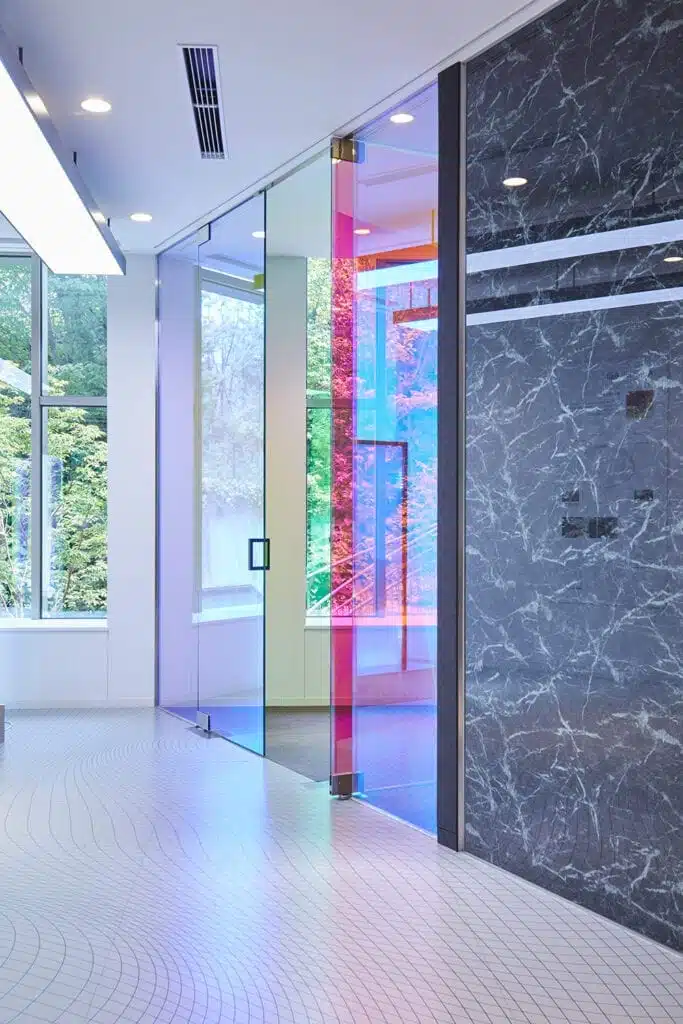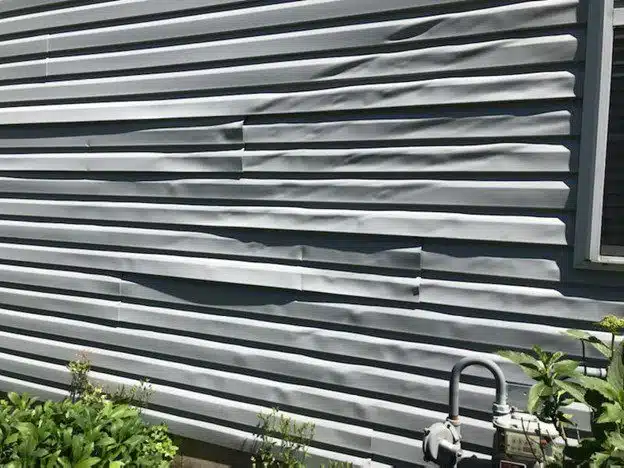 Turf Protecting
Window Film
Is your glass or your neighbor's glass killing your grass or melting your siding? Prevent your grass from burning and synthetic turf and siding from melting by installing turf protecting film.
Artificial Turf: Window reflection can magnify to the point of melting the artificial turf
Grass and Flowers: Brown spots on the flowers and lawn can be a result of the window reflection
Vinyl Siding and More: Warped vinyl siding is often due to window reflection from neighbors' windows
If you are experiencing any of these issues, call us for your free consultation.
Available Solutions for Residential, Commercial, or Institutional properties
Worried about your business's energy costs? Want to feel more secure in your home? Need an inviting interior for your school, hospital, or government building? Look no further! All of the following solutions are available for your project, no matter the property type!
LETS BUILD YOUR DREAM PROJECT
COMMERCIAL, RESIDENTIAL, INSTITUTIONAL — WE DO IT ALL!